Here at RoJo's Miniature Schnauzers our mission is to provide the highest level of service to our customers. Our goal is for our customers to have the best experience in purchasing a miniature schnauzer puppy from us. Not only do we pride ourselves in serving and assisting our customers throughout the adoption process, we strive to breed the highest quality, healthy, and well socialized miniature schnauzers puppies you'll find on the market. Feel free to read our reviews to see what our customers have to say about their experience with us here at RoJo's Miniature Schnauzers.
Franklin (aka Odolf).
It was my first time purchasing a pet online, and I was very nervous. JoAnn and Roland made it so easy from purchase to pick up. In the process we have received a wonderful addition to our family. This puppy is amazing has given us nothing but joy from the day we picked him up. He has such a little personality in true miniature schnauzer fashion. Amazing breeder, and I highly recommend!
Tami Berger
Kooper
In 2019 I had gone 15 years without a schnauzer because I just knew no other would touch my heart like my Annie. She was my silver schnauzer that we got for our silver anniversary. But then I saw pictures of a little girl on RoJo's website we wanted a look and drove hours to go see her….only to have this little boy say NO, you are taking me home. I had never raised a boy dog and this one was black parti; not necessarily what I was looking wanted. But Kooper is the biggest flirt and he stole my heart that day. He rarely barks, stays with us like Velcro, and I must say he is only dog we have ever had that demands to sleep in our bed. He LOVES to ride in the car and visit with other people or play with other dogs. Everyone in our neighborhood thinks he is celebrity and they stop for fence time to play.
I owe such a debt of gratitude to RoJo for working with us, carefully breeding the best, and changing our lives forever. We constantly have commits from people about his soft coat and loving personality. He visits at our local assisted living facility and is obedient, well behaved and loved by all. Thank you RoJo!! You are awesome!!
Su Bunch
We are about to get our third miniature schnauzer from Rojo's (in 4 1/2 years). Our oldest is liver, then wheaten pepper and now a parti mix, all females. We do not breed our dogs, and so far our two girls are amazing family dogs. Great temperament, healthy, fun, funny, quirky, and loving. When we decided to add another family member, we knew there was only one place we would look, Rojo's!!! Thank you for all our lovely ladies! We can't imagine life without them.
Melissa Floor
Levi (lil boomer)
Levi [lil boomer] is 4 months old and a perfect little puppy! He is the perfect age to train and so smart. He fit right in with our family and made himself right at home! He is very comical and makes us laugh.
Thank you Roland&JoAnn
Your babies are the best and worth every penny.
We've had Levi 2 days now and no accidents!!
Sweet sweet puppy!
Denise Young
Spatz Edward
Spatz is completely Spoiled!!! Mr. Personality. Thank You JoAnn and Roland for Our almost 2 Year Old Baby Boy!!!
Russell & Marcus
GiGi and Milie
We purchased Millie (aka sugar n spice) three years ago, and she has been a wonderful addition to our family. Full grown, she topped out at 8lbs, what she doesn't have in size, she makes up for in personality. We recently decided to add GiGi (aka Sophie) and could not be happier with our purchase. When my husband saw her face, he said, we need her. So GiGi and Millie are now the best of friends happily playing together all day long. They also like to be in my lap while I am working, so they jockey for the best position, then go to sleep.
Melissa Floor
Vino
We got Vino 12 years ago from JoAnn and he is our little boy. He has been such an amazing dog and we love him so much. We just put a deposit down to add to our little family. We cannot wait to purchase from JoAnn again. She really does raise the most amazing, smart, and kind little ones ready to take home to join your family.
Jon & Steph
Sigmund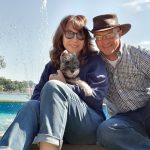 Hello JoAnn,
We wanted to express how happy we have been with our new puppy Sigmund (formerly Garin). We love him so much and have become so attached, him with us and us with him. He goes everywhere with us and he has learned so much in the short time we have had him. He's always eager to learn and we constantly brag about how smart he is. Thank you so much for the newest and best addition to our family!
Sincerely,
Donna and Larry
Donna Schmitz
Cooper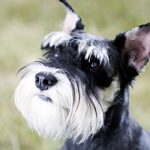 JoAnn – Cooper is 7 months old today and I was thinking about the day we picked him up and decided to send a portrait I took of him with my iPhone 11. He's not only a very handsome puppy, but smart with a BIG personality!
Hope all is well with you!
Blessings! Carolyn
PS – My husband has never loved a dog as much as Cooper!! And Cooper is his shadow!
Carolyn
Scout
Hi JoAnn,
We are extremely happy with our choice of going with RoJos Miniature Schnauzers! We looked at several Breeders and it was your website that attracted us.
I can also tell that you genuinely care about your Schnauzers's in the way you breed them from start to finish.
I can tell your Schnauzers's are very intelligent and their crate training is outstanding!
Scout was within 7 days, potty trained, trained to sit down, lay down, get up, turn and roll over. These are only a few of the many things he will learn. I'm clicker training him and he caught on very well.
Scout's very happy owners,
Bill & Angie
William Novak
Lil Rio
Thank you for the love of my life Lil Rio. i I have had him for six years now and he has just grown more sweeter. We have had our ups and downs together but all in all I am so glad to have him as my buddy And I know he feels the same way about me we are very close and go everywhere together even the grocery store he has become like another person in my family and everyone loves him! Here's a great picture of a little Rio????
Alison Sandoval
THOR
Thank you so much for our beautiful Thor! He completes our family and we are over the moon with him. He is extremely smart and well behaved. We couldn't have asked for a better Schnauzer!
He loves living in Miami, FL!
Valerie
Ollie
Greetings from Ollie and the Alsups!
He turned two in December and at the end of February we'll have had him two years. He is the greatest joy of our lives. It is so sweet to see how much he and my husband love each other, they are truly best friends.
He has the softest fur, and constantly gets compliments about his appearance. He's topped out at 13 lbs. He sleeps between us every night, and loves to play tug. His favorite treat is cheddar cheese, and he is the cutest beggar.
He's made us a family. We can't imagine our lives without him! He's the best boy.
Chelsey and Wade
Chelsey
Francis Decker
Duke is our male dogie is spoiled beyond any reasoning he is the love of our family and he loves all kinds of play. He was born Christmas Eve and the best present we could later receive in late February. Thank you for the love of our life he goes everywhere I go. Duke loves the outdoors and his walks, thanks again.
Francis Decker
Izzy and Ellie
I wanted to send you a current picture of our girls. You have not seen them since we picked Ellie up from you 3yrs ago. We are so pleased and love our girls and they go everywhere with us. As you know they are just 1yr apart and are 2 peas in a pod! Insepirable from us and each other. Thank you so much for our beautiful schnauzers!
Kent and Mindy
Mindy Stuart
Kaiser ♥️
I wanted to take a second and thank you guys so much because we got not just a dog, we really truly believe he's a little human trapped in a dogs body. He's the sweetest and smartest dog we could have ever asked for. The way he loves us is just amazing, it has been beautiful seeing him grow a long with our baby girl. Kaiser who's name before was "Reggie" is now a beautiful 2 yr old. We will never be able to thank you guys enough.
Greetings from Texas
Pablo & Itzel♥️
Pablo & Itzel
Bonnie and King
Hi!
Here are Bonnie and King (Ariel and Thor) as previously named by you. They will be 1 in April! They bring us so much joy. We love them so much! They both have such different personalities it is never boring in our household.
Thank you so much for our lovable beasts!
Justyna Peck
Oliver (Gabe)
We welcomed Gabe into our home almost a year ago, and fell in love instantly! We have since changed his name to Oliver. He's the sweetest, most affectionate mini I've ever had the joy of knowing. He and his older brother Baxter (our 3 year old black and silver mini) are inseparable and are the best of friends. He's eager to please, and was by far the fastest learner. I feel so lucky to have found him and treasure his love everyday. I'm extremely satisfied with the quality of schnauzer I purchased from RoJo's.
Amber and Alexander
Fritz
Hello Joann!
We just wanted to send you a photo of our beloved Fritz. His 2nd birthday was yesterday, and he is the love of our life. He has brought us so much joy. Thank you for giving us such a beautiful, lovable, perfect Schnauzer.
He is enjoying his life in Sunny Isles Beach, Florida!
Clive, Terry, and Fritz
Calcifer
Hey!!
We just wanted to say thank you so much!! Calcifer is def a great puppy! We are coming up on his first birthday and we couldn't be happier. He looooooves our kids and sleeps in their beds. He is easy going and super smart! He does great on trips and is awesome with other dogs. We are looking forward to getting him a brother or sister in a couple months. Oh and by the way, apparently liver schnauzer aren't seen too much so he ALWAYS gets noticed for his liver color and green eyes❤️❤️
Lauren & Nathan
Maverick
Hi JoAnn,
We took Maverick to our veterinarian today and he checked out perfect. They were very impressed with the rrecords you had sent with Maverick.  Our veterinarian stated that you were one of the best breeders they have seen a puppy come from and some of the best paper work he has seen.
Maverick is doing fantastic. He has become very acclimated and content with his new home and family.  He is the best puppy and addition to your family that we could have ever hoped for.  Last night he slept in his crate from 10:30 p.m. to 4:20 a.m. without having to go out to potty.  He went right back to sleep until 6:45 a.m. He already knows the schedule and has only had one mishap on the first day he arrived; which was our fault for not paying close enough attention.
Yesterday Maverick went to the car wash with me in his car seat that Jeanette gave maverick and I for Christmas (see photos below). He really liked the excursion and received tons of AAAAHHHHH he's so cute! Also attached is a video of Maverick playing with his sock.  He loves that sock you sent with him!
Thanks again for sending us such a Wonderful Puppy!
Happy New Year!
Tim
Zoe
Thanks Mrs.Branton for the quick reply. I visit your web site quite frequently ,and wouldn't consider buying a puppy from any other and I am considering another one in the near future.You might remember sunshine , we renamed her Zoe she is doing very well ,growing and is a beautiful dog. And takes to spoiling really well.
Terry
Jaxon
Jaxon got his first cut for the holiday's he's pretty special
Jaxon has fit in really well he has a great personality and has made himself at home. He has just lost his puppy teeth so playing doesn't hurt as bad. He loves going for rides and wants to be close to somebody or who he is with.  I call him action Jaxon he stays busy but we really have gotten attached to him he is a great dog. Hope things are going well with you guys, later Stanton.
Stanton
Sidney
Hi JoAnn,
I finally had little girl groomed right and I just want you to know this puppy is very healthy, active, and smart.  Of all the Schnauzers I've ever owned, none can compare to Sidney.  She is extremely happy and well adjusted, rules the house and my heart.
Thank you again for sending such a wonderful companion.  BTW, she has never been outside to do her business.  She loves her potty patch, and so do I, especially when it's -27 outside.
Please don't hesitate using me as a referral.
Don
Leopold
Here's a couple of pictures of Leopold that you can add to your website if you choose. Thank you again for all your help. Oh, I did want you to know that when I took Leopold to my vet, who has been our family vet for years, said he had never had a client bring in such detailed paperwork on a dog they had ordered from a breeder. That speaks very highly of you and the attention to detail that you not only give to your puppies but to information going to the purchaser of the puppy as well. During the time I had Leopold I have recommended you several times to anyone thinking about buying a Schnauzer and I will continue to do same as I enjoy the company of "Max". Thanks again for everything.
The first couple of shots were of Leopold first experience at the beach. He romped through the sand and by the end of the day he was not only tired but weighed an extra 5 pounds because of the sand he had accumulated on his body!
The last one is a photo of Leopold I took at the office one day. He was with me every single day at the office and ran the company just as much as I did. Sometimes though, I think he thought he was really the boss–and he was probably right!
I wish you the best in your business and you truly are a quality breeder who's main concern is for the health and welfare of the puppy and making sure they get into homes where they will be showered with love and affection.
Randy
KoKo
Hi!!!
Hope all is well in the world of Schnauzers!!
I am sending you some pic's of all the puppies (and included my big boy who started it all).
BB is doing AWESOME. She is still a tiny little girl (5.6 punds) but has the attitude of a big girl for sure. Sopie is a little over 6 pounds and is the sweetest puppy I have ever seen. My brothers dog Tiger (Ace as you knew him) is 13 pounds and just as playful as you could imagine. My Mom's dog (Coco) now "KoKo" is a beast, I mean he is one big puppy, close to 15 pounds already and is just so sweet. We got all of them together last weekend at our lake house and had "Schnauzer Palooza", we even had shirts for the adults AND dogs made. That is one of the pics I am sending you.
The group shot has my big boy Baxter on the right, then to the left, Tiger, KoKo and BB and Sophie. The second pic is of pretty liitle BB cudling with me, the 3rd is my 3 sleeping, they are just perfect!!
I want to take this opportunity to thank you and Roland for everything, you guys made it perfect. You raise and sell such perfect puppies, are honest and so genuine, that I couldn't imagine a more perfect process.
I am trying to talk Tabatha into 1 more, a boy, so we will see.. As for now, we are so happy, all of us, and we all just wanted to say "Thank You"!!
Feel free to share the pics to anyone who loves Schnazuers, or on your website!!
Take care, and look for future updates on all the babies!!!
Kevin
Mallory
Hi there!
Just wanted to drop you a line to let you know how our sweet girl is doing.
First…the family has renamed Mallory. The more we got to know her very perky personality, it just seem fitting. She now goes by Dixie. Let's see… thats Dixie Diva, Dixie doodles, Dixie Do, Dixie Chick. I could go on and on. Mallory will always be apart of her name because it is a beautiful name. But she is such a little Diva. Oh my goodness.
She and BlackJack have bonded wonderfully. She has added that spark back in to him and he gives her security and calm. They are great together!!
We just got back from Myrtle Beach SC, we will be spending alot of time there. Its where I grew up and the only place I care to vacation. (Unless we are going somewhere really tropical) 🙂 We had a great weekend. She fits into our travel/ camping world perfectly. And she loved the beach!! Sand every where, just loved it! We will be going back in late March.
We are excited to take her out on the boat in the next few months. Don't worry the boat and camper both are super nice and very large so she isnt tucked away in a tent or paddle boat by any means. She is living a very nice life enjoying the out doors and will continue to do so. She did fall into the pond in our yard twice, so we have a feeling she will do just fine on the boat. lol
So I've attached a few pictures. I was excited to get our family shot updated since we lost our little girl right before Christmas. We still miss her terribly but Dixie has really helped to fill a void. Hope you are doing well and enjoy the pix! 🙂
Dawn
Bella Rose
Hi there!
Just wanted to let you know that Bella Rose had her puppy exam today with our veterinarian. They absolutely fell in love with her! They said she is in perfect health. Thank you so much for raising such wonderful puppies. Bella is adjusting very well to our home. She is such a sweet loving puppy that brings much joy to our lives. I have attached a few pictures of Bella and Annie. They recognized each other right away and are so playful together.
l promise to keep in touch and let you know how Bella is doing time to time.
Thank you and God Bless~
Kaila
Andrea
We just wanted to send you a few pictures of the puppy to let you know she has adjusted well. I've included pictures of her with her new brother Winston (he is a lab) and also pictures of Matt and I and our 2 children. She is doing very well on her house training and has been an absolute joy!!
Hope your family has a wonderful Christmas!!
Andrea
Faye
Thank u for letting him in my life. Great dog and he brings everyone he meets joy. Thank u again.
Faye
Snow
Hello~
Here is Snow's picture. Tomorrow is.. Snow's 12 weeks SHOTS day~ and I took this picture with my cell phone so looks not clear. He's very sweet and smart and loves to play all the time. We all love him and every morning and afternoon I take him to school. Everybody loves him. I hope you have a wonderful Christmas and Happy New Year~~~
Yun and family
Sammy
I think everyone knows that on Sun. Nov. 11th 2007 I lost the love of my life…Sammy !!! He was only nine and all I did was cry EVERYDAY and I knew that there was only one way to help myself….Her name is DAISIE and she is from Oklahoma. My mom went with me to pick her up at the Phila. airport on Dec. 1st.. She comes from two VERY nice people named the Branton's.The whole litter was beautiful, but Daisie stole my heart. I decided to keep that name because SAMMY used to go around the yard and eat all the tops off of the daisie's in the yard. ( They were really Dandilions, but I called them Daisies). Her papers Say " Driving Miss Daisie". I am attaching a photo of her for everyone to see. I miss my love…Sammy…so much , but Daisie has helped ease that hurt. She keeps you busy !!! I take her with me everywhere I can (which is most places) and she is very good in the truck. I will send more photo's as she grows.
Dawn
Barkley
JoAnn and Roland,
Barkley is truly amazing. On his second day his personality was shining. He stops everyone on the sidewalk and jumps onto their arms to greet. He loves his new bed, toys and sleeping in the bed. Playing with him is too funny. He is a nibbler. I love his curiosity too. He and Reuben met and they played. I can't believe Barkley's social skills. He enjoys other dogs. Sending pics separately
Andy
Libby
This is Libby (previously known as Emily Rose). She is now 6 1/2 mos old and weighs a whopping 5.6 lbs. She is very energetic and burns off everything she eats. She is still our little ball of fire. She is totally fascinated with everything, rabbits and birds as well as frogs and bugs. She is very curious about our new 2 week old grandson.
Thanks so much for allowing us to have her in our lives. We love her so much.
Let me know if you are unable to open the picture attachment and I will try another method.
We are so very curious as to what happened to her sister, Hope. I'm sure you can't give out information but we would be curious where she ended up. We were so close to buying both the girls so we have this curiosity. Thanks again,
Phyllis
Moxie
Dear Brantons, attached are some recent pictures of me – Moxie Sterling Pearl Scattergood. My mommy showed me on the website I now have new brothers and sisters. One little brother looks just like me. I licked the monitor when I saw him. Trying to talk my mommy and daddy into getting me a sibling so keep your fingers crossed. As you can see I am quite pampered. My mommy and daddy work from home so I get all their attention all day long. My auntie named me cause she said I am full of moxie….and everyone agrees…..not that I know what that means. Sterling obviously cause I wanted some of my birth mommies name and Pearl cause I am pearl white. Ok, except that one time in band camp when I went out and rolled in the slush after the snow had melted. But I was quickly forgiven.
Moxie
Max
Here are a few pictures of Max. I already took him to our vet's this morning and they said he is a healthy puppy. We love him so much. He is just adorable. He only wet in the carrier so that was a good puppy. Slept in the carrier through the night and only got up 3 times.
Our dog Duffee is not too sure about him yet but we know he will accept him once he is a little older. Thanks, again, for providing a new member to our family. Happy Easter and hope you enjoy the pictures.
Cindy and Wes
Zeus
Hello Joann! I wanted to let you know Zeus is doing amazing, and we adore him!!! He has a temper but so sweet with us! Here's a picture 🙂
Gelkys
Silver
Hello,
How are things. Silver is doing wonderful! Very smart little dog. House training is going well. I'm quite used to very large dogs and find it weird. My Giant Schnauzer was 116lbs. Silver weighs in at 3 lbs 4 oz. I'll adjust! I would love to see some pictures of her parents
Becky & Silver
Bailey and Cooper
JoAnn, Just wanted to let you know all is well with Bailey and Cooper. Yesterday, Bailey turned 1. She has brought endless joy to me in the last year. Cooper and Bailey both. I sent birthday pictures. They are quite the pair. Hope all is well with you and Roland
Taunya
Kasper
JoAnn,
After traveling 2688 miles, we have made it home and the drive was well worth it. Kasper is such the "Little Man". After the second day his full personality came out and was the hit of our trip. We feel so blessed as he continues to pass out his kisses to us and barking at the birds in our yard. Since arriving home, he has made himself at home and is the talk of the neighborhood. We could have not asked for a more perfect companion as our Kasper. Thank You for Kapser and your patience!!!
Frank Romano
Macie
Greetings from RI,
Macie is doing GREAT ! You were right, she is a very loveable and playful puppy. She has been playing with the other dogs in the neighborhood. Also being very spoiled. She has been doing well with housebreaking. She slept with me the third night she was here and I came home today with
No accidents 🙂 Sorry we haven't got back to you sooner. We have been outside with Macie in the nice weather. Here are some pictures. We will keep in touch.
Robin
Sadie
Dear Roland and JoAnn:
Sadie continues to be a delight. She is admired everywhere I take her for her sweet attitude and beauty.
Take care and have a wonderful summer!
Carol and Sadie
Max
Hi JoAnn, just thought i would forward of picture of Max after getting his first big boy haircut. He is quite the handsome fellow! He has received all his shots and weighs in at 11 lbs. He is a very good boy not having had any accidents in the house at all. Would like to thank you again for letting us get him. We love him to pieces!
Will send you updates periodically if you would like.
Carol Ann
Sir Lancelot
Hi Joann just sending a little letter and some pictures of Sir Lancelot, now He is 2 years and 8 months (born 12-27-09). He is a wonderful dog, everybody always admire him when we walk in the park, stores, everywhere. I wanted to thank you because Lancelot makes us so happy, he is very respectful and only plays with all his toys. He is a really smart dog and people think we trained him to be a show dog, but that is just his personality. We always recommend you guys when someone says that they are looking for a puppy. We love our schnauzer.
God Bless You and your Family.
Vanesa and Luke
Bandit
Hi,
It's Brad from Memphis. We bought Bandit thinking he was a dog, but now we're not sure anymore. We have not been able to take a photograph of our son Ethan without Bandit being in it since the day we brought him home. They are best friends, just inseparable. They do everything together; get into mischief, play constantly, eat at the same time, and sleep together every night. Bandit will not leave his side and mopes when he's gone. We feel more like he's Ethan's brother. When Ethan gets a toy, so does Bandit. He's more like a second son. We couldn't love him more!
We thought you'd like to know how great he's turned out. 100% potty trained since day one too, scratches on the door every time.
We are debating buying a puppy. Do you have any with Bandits color scheme?
Brad, Jennifer, Ethan, and "B"
Dirk
Hi,
Just wanted to let you know how happy we are with Sterling now known as Dirk. Here's a picture of him from this past weekend. He is so smart, playful, and cute! He is everything I had hoped for!
Thank you so much again!
Sarah
Darcy
Hello,
Sending a few quick pics, as you can see they even color match our kitchen. ps. if I was not so far away I'd run right over there and give you a BIG hug .
Thanks again
Darcy
Milo
Hi JoAnn
Here a couple of pic's of Milo with a couple of his chew toys and bone his first day home. He seems to pose when you take his pic. LOL. He has a appointment with our vet here next week for shots. He seems to like his food really well. He is chewing on everything he can find shoes, his bed and blanket he is such a wonderful addition to our family he loves playing with Terry and my brother Ron. Thank you again we all love love love him!!!!.
Lori and Terry
Nicole
Just thought you might like to see how pretty Nicole is. She is really a very loving dog. Of course she rules the house. Weighs about 9 lbs and full of energy. She has bonded very well with both of us. We try to take her everywhere we go.
Thanks so much
Monty and Linda
Tiger
Hi JoAnn,
I thought you might like to see a picture of Tiger (aka Ace) in his Halloween costume. We called him Sir Tiger. 🙂
This guy is happy, healthy, and just all around awesome. We love him so much! He weighed in at 13 pounds at his last vet appointment and she was pretty sure he'll get to around 25 pounds when he is fully grown.
Thank you for raising such a handsome boy for us. He is such a wonderful addition to our family. We can't imagine life without him now!
Krystal Golding
Leave A Review!