Your Schnauzer puppy deserves the best start in life
Great for the Health and Development of Puppies
Nuvet Plus provides a synergistic formula of antioxidants, amino acids, vitamins, minerals, and more for good health and proper development of puppies and young growing dogs.
Supports your puppy's developing immune system
Provides nutrients for proper growth
Helps fortify bone structure
Proper development of the digestive system
Supports the nervous and cardiovascular systems
Promotes a healthy skin and coat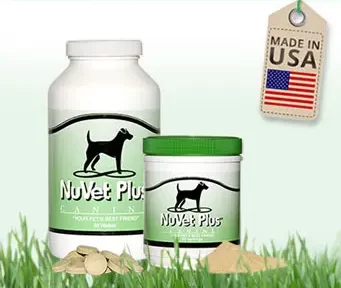 How To Order
It's easy to order, I can send you an email explaining all the details, and you can order from there any time you would like. You may choose NuVet Plus Powder or NuVet Plus Wafers. We start our young puppies on NuVet Plus powder and mix it with their softened pawTree food. We switch them over to NuVet Plus wafers when they are able to eat dry food. NuVet Plus offers a full money back guarantee, so if for some reason you are not satisfied you will get your money back. How could it get any better?
Here at RoJo's Miniature Schnauzers, we take the health of our puppies seriously and want our puppies to have the best start in life. We strongly recommend NuVet Plus for all dogs and especially your new addition as well. This helps keep every dog as healthy as they can be.
6 Reasons for Your Puppy to Start NuVet Plus
Natural Human Grade Ingredients, no artificial flavoring
Antioxidants, amino acids, vitamins, minerals & more
Made in the USA
Manufactured in a Registered FDA facility
Cold processed to retain each ingredients rich nutrients
Real chicken liver paddled dried using a patented process