WELCOME TO ROJO'S MINIATURE SCHNAUZERS
Our Story
---
Here at RoJo's Miniature Schnauzers our business with the miniature schnauzer breed began in 2005, but this was not the start of our journey with the breed. When our children were younger we started out with a miniature schnauzer as a family pet for them as we knew the breed makes a great family pet. We were already familiar with the miniature schnauzer breed as we had owned miniature schnauzers prior to our children. We have completely fallen in love with the breed and want others to experience the joys of owning a miniature schnauzer. Choosing a miniature schnauzer from us it is an extension of our family.
Are you wondering if the miniature schnauzer breed is right for you? Miniature schnauzers are highly intelligent, obedient, loyal, spirited, and affectionate. They are also very eager to please and highly trainable. The breed loves being a part of the family and their greatest joy is being near their family. Still not sure if the breed is right for you? Take a look at Why Choose a Mini Schnauzer to learn more about the breed.
Our Mission
---
Our mission at RoJo's Miniature Schnauzers is to produce miniature schnauzers with the best qualities of the breed. We take into special consideration lineage, health, temperament, coat, conformation, and size. We carefully select our miniature schnauzers for our breeding program. All of our parents from AKC registered lines. We thoughtfully plan our breeding to ensure we produce well bred, healthy, quality puppies with great temperaments. Socialization is another key factor we place great importance on. We begin socializing our puppies at an early age to ensure our puppies grow into healthy, happy miniature schnauzer adults. We strive to produce healthy, well rounded miniature schnauzers with great dispositions and exquisite qualities of the breed.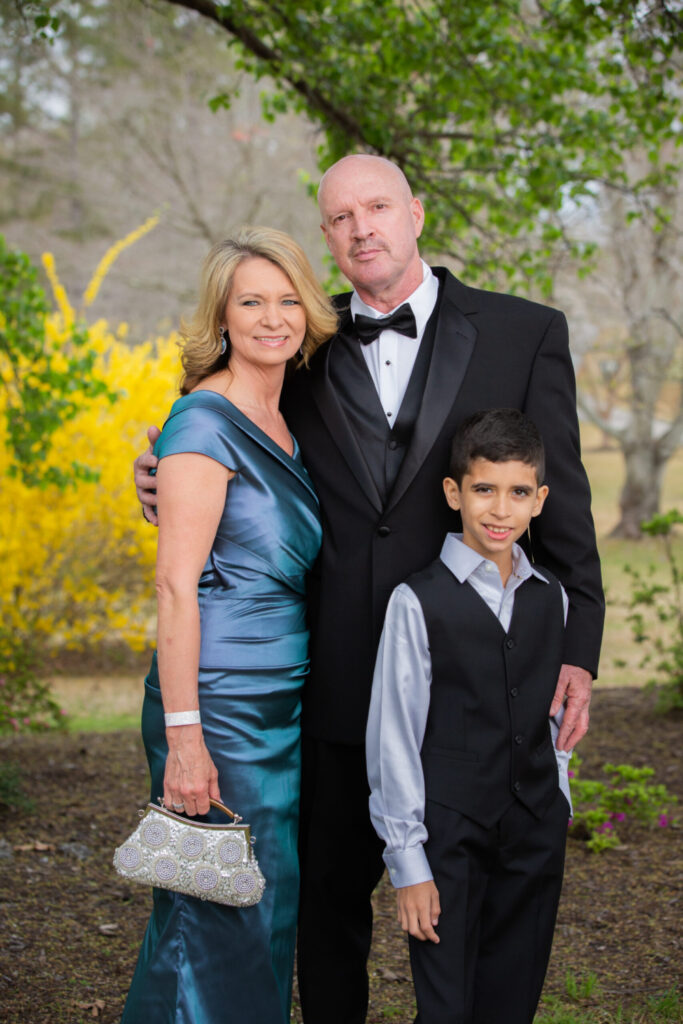 Our Team
---
We are a family owned and operated business consisting of my husband, myself, and our oldest grandson. We are a highly reputable, responsible, and dedicated miniature schnauzer breeder. We give our miniature schnauzer the best care possible and enjoy taking care of them. We spend a great deal of time with our miniature schnauzers. As a family we take great pride in our responsibilities to our miniature schnauzers and our breeding program. Our grandson takes part in helping out with our miniature schnauzers and is always happy to help out with the socialization process of our puppies. Our miniature schnauzers enjoy romping and playing outside on our 25 acres in the country.
My husband and I are also both educators. I taught school for 21 years. My husband is a high school basketball coach and has been coaching for over 30 years now. I chose to stay home with our grandson before he started school and our miniature schnauzers. This has allowed me to be able to give our miniature schnauzers the love, care and attention they need. Our family absolutely loves the miniature schnauzer breed! We enjoy sharing this breed with other families and touching the lives of others. Our miniature schnauzers will always be a part of our family when they leave our care. We thoroughly enjoy getting to stay in contact with our families and getting to see our miniature schnauzer puppies grow into adults. Be sure to take a look at some of our schnauzers with their families at our Gallery of Miniature Schnauzers.
Endorsements and Reviews
---
It is very important to us here at RoJo's Miniature Schnauzers for families to have a great experience in owning a miniature schnauzer from us. We want to provide the best service and support to our miniature schnauzer families. Are you wondering what others experiences have been like in getting a miniature schnauzer from us? To learn more about what our customers have to say about their experience with us take a look at our Reviews.

Breeder Licenses & Credentials
---
Here at RoJo's Miniature Schnauzers it is very important for us to adhere to the federal and state laws required for breeders. We are licensed with the United States Department of Agriculture (USDA). We are required by federal law to have a USDA license in order to ship our puppies via airlines or ground transport. Without a USDA license we would not be able to legally ship a puppy. We do not sell any of our puppies to pet stores or brokers, in which a breeder is also required to have a USDA license to do so. We place all of our puppies in homes with loving families. We are also a licensed breeder with the state of Oklahoma as required by our state law. Not only are we USDA and State licensed we are inspected by the American Kennel Club (AKC) and our licensed veterinarian to ensure the health and well being of our adult miniature schnauzers and puppies. We are proudly 100% in compliance with USDA, OK State, AKC Inspections, and Veterinarian Inspections. We take our business seriously and the health and well being of our miniature schnauzers is a top priority for us here at RoJo's Miniature Schnauzers.